People
Amy & Melissa
Amy & Melissa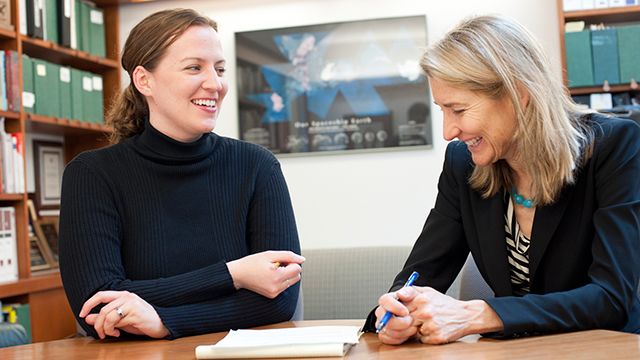 "What I've enjoyed most about our collaboration is talking about the ideas and planning the possibilities, and then watching how incredibly fast Melissa turns ideas and possibilities into action."
— Amy Edmondson
We are working on several different projects at different stages of development. All of them involve research in the field — that is, data collection that occurs in real organizations, through observations, interviews, surveys and other means. Health care delivery is the common interest that brought us together, but our research has not been limited to hospitals. In fact, we recently completed a study with Brad Staats, an assistant professor at UNC (who graduated from HBS with a doctorate in 2009) about how teams can make use of existing knowledge in an organization to improve their performance. This took place in a large Indian software services company. We are in the data analysis phase of a field study of a hospital emergency department, which is the core of Melissa's dissertation research. This study examines, as a kind of natural experiment, an organizational redesign that introduced an innovative structure to support teaming in the department. We are also working on a methods paper about survey measures that are effective in assessing teamwork in health care settings, in collaboration with Ingrid Nembhard, also a graduate of the HBS doctoral programs (2007), and an assistant professor at Yale.
Research Focus
The focus of our research is on teaming — the interactions through which interdependent actors get work done in complex organizations. We're particularly interested in how organizations can support teaming in situations where stable, bounded teams are not feasible or practical. Increasingly, teams in today's workplace confront shifting (rather than stable) tasks and members. The changing nature of team-based work in organizations makes it important for researchers to study teaming so that we can better enable real-time coordination in fast-paced work environments. Health care delivery is full of teaming opportunities — and also faces persistent barriers to successfully realizing these. We are interested in what managers can do to lower the barriers and foster effective collaboration, in healthcare and elsewhere.
Findings & implications
In our recently completed study of software teams, we looked at how teams developed a variety of strategies for organizing the team search for and use of existing, stored knowledge in the organization. We looked at the influence of two teaming challenges in particular: how dispersed team members are and how much task change they faced, and on how teams used stored knowledge, and on how useful it was for their performance.
We are still in the process of analyzing data from the emergency department. An exciting aspect of these complex teaming data, which we have collected at the level of patient-based team interactions, is that we need to adapt and innovate existing methods and concepts to understand the phenomenon. We are excited about making a contribution to understanding teaming in this high stakes setting.
The Collaborative Process
Melissa: The collaborative process tends to be virtual and fast-paced. I am amazed at how quickly Amy responds to emails that I send with brainstorming ideas, questions, or drafts of proposals or papers. There was one weekend when we were up against a conference deadline, and were sending drafts back and forth constantly throughout the weekend. The proposal turned out great (and was selected for participation in a small, competitive workshop, conducted by a top journal)!
I think my work with Amy during my doctoral program is going to benefit me throughout my academic career. She is amazingly good at clearly conceptualizing research questions and findings -- seeing and then participating in that process with her is probably the most beneficial part for me of working with Amy.
I remember that Amy and others told me during my admissions interviews that the doctoral program at HBS is an entrepreneurial model, meaning the students have to be enterprising and self-motivated. I think that is true, but in my experience, this model can result in close and rewarding collaborations.
Amy: Working with Melissa is truly rewarding for me. As she points out, we don't meet in person as often as we interact via email, phone, and even Skype. But it's been amazing for me to watch how well Melissa picks up on subtle ideas and opportunities and runs with them, coming back to check in with questions both large and small — while somehow getting an amazing amount done. I think the most striking thing for me about working with Melissa is how proactive she has been in coming up with opportunities for field research. I don't know how she has made so many contacts out in the world of healthcare delivery in such a short time! But, at various points in her time at HBS, she has come to me with two or three field research opportunities that she has identified, to ask me which, if any, seem most promising. We've talked about it and usually been able to come up with a good path forward.
What I've enjoyed most about our collaboration is talking about the ideas and planning the possibilities, and then watching how incredibly fast Melissa turns ideas and possibilities into action. I also really enjoy handing our writing works-in-process back and forth, and watching the papers get stronger, tighter, and more compelling.
Melissa has the heart, soul, and temperament of a researcher. She's curious, driven, creative, and incredibly productive. I am stunned by how much she gets done. This is the kind of student — and the kind of collaboration — that makes my job truly a professional dream come true.