People
Lisa, Chia-Jung & Max
Lisa, Chia-Jung & Max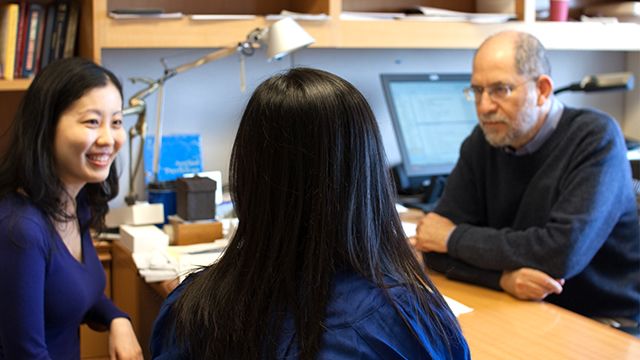 "Collaborating with doctoral students is the most important part of my career."
— Max H. Bazerman
Professor Max Bazerman and Lisa Shu have worked on a series of studies consistent with the bounded ethicality research that Max developed with Dolly Chugh (2006 OB PhD grad, now on the faculty at NYU) and Professor Mahzarin Banaji (of Harvard's psychology department).
Bazerman and Chia-Jung Tsay are working on two papers that reflect on the history of the negotiations field over the last 25 years, as well as the upcoming future of the field.
Our Research
Max: Lisa, Francesca Gino (a former HBS post-doc), and I try to understand how people routinely engage in dishonest acts without feeling guilty about their behavior. We show that across four studies, people justify their dishonest deeds through moral disengagement and exhibited motivated forgetting of information that might otherwise limit their dishonesty. In a related set of studies, the three of us show that people judge behavior as more unethical when (1) identifiable versus statistical victims are involved and (2) the behavior leads to a negative rather than a positive outcome.
Lisa: My work with Max and Francesca is set against the backdrop of a larger set of papers that together shed light on how malleable morality really is. We find that situational factors which lie outside the individual have huge impacts on moral judgment and decision-making. Triggers in the environment either help or impede people's decision to act with integrity. People revise their moral attitudes after acting to align their beliefs with behavior, and these beliefs then in turn predict future behavior. It turns out that morality is dynamic, and can be more realistically modeled as a sliding scale—more susceptible to situational nudges than our intuition leads us to believe—rather than a fixed trait that stays constant across different environments.
Max: In addition to our negotiations research, I also serve as an informal adviser to Chia on a fascinating project that she has been conducting with Professor Mahzarin Banaji. The project explores the tendency of people to overweigh natural talent and under-weigh motivated effort in judging other people.
Chia: This line of research has focused on the perceptions and evaluations of talent and performance. Whether our goals are to identify talent or to assess the skill of professionals, our beliefs about the sources of achievement are important because they can shape our behavior toward our own talents and toward the talents of others we judge. Through several studies in the domain of musical talent, we found that observers' beliefs about where a candidate's talent derives from—whether the source of talent is natural versus acquired— influence perceptions sufficiently to bias assessment of talent itself. Our findings also suggest that domain experts may be particularly vulnerable to this type of bias, with consequential implications for decisions involving educational placement and professional selection and advancement.
The Collaborative Process
Max: Collaborating with doctoral students is the most important part of my career. Working with spectacular doctoral students is a real joy, and I take great pride in seeing my former students thrive as professors at the best management schools in the world. For me, working together is simultaneously a great way to conduct research, and allows us all to grow as better researchers. Chia and Lisa are both examples of the fantastic students that I have worked with in the psychology track of the Organizational Behavior doctoral program at Harvard.
For me, one of the joys of the psychology track in the Organizational Behavior program is the opportunity to work with great students in conjunction with some of the finest social psychologists in the world, people like Mahzarin Banaji, Dan Gilbert, Joshua Greene and Wendy Mendes.
Lisa: I learn an incredible amount from my collaboration with Chia and Max. We each bring distinct perspectives and methodological approaches to the same research question. This type of collaboration helps me round out my research skills while at the same time allowing me to hone my particular strengths and contributions.
I count my collaborators and co-authors in the Organizational Behavior; Social Psychology; Negotiations, Organizations, and Markets; and Marketing Departments. The convergence of the resources and expertise from all these fields makes for a truly unique and rich graduate experience.
Chia: Collaborations with both peers and faculty have been some of the most valuable opportunities that the Organizational Behavior doctoral program has fostered, right from the very start. The joint nature of the program has also allowed us to engage with scholars from multiple departments and disciplines. From classmates who become colleagues and friends, to dedicated mentors who inspire and challenge us as they guide us along our development as scholars, working together with Lisa and Max has been an incredible learning experience.
*This article was published in 2012. is currently an Assistant Professor at London Business School.
**Chia-Jung Tsay is currently an Assistant Professor at University College London School of Management.