Creating Emerging Markets explores the evolution of business leadership in Africa, Asia, and Latin America. At its core are interviews, many on video and by Harvard Business School faculty members, with leaders or former leaders of businesses and NGOs. These interviews, with men and women of diverse backgrounds, address pivotal moments of transition in their regions. They contain compelling insights on entrepreneurship, innovation, family business, and the globalization of firms and brands. Emphasizing ways that businesses can create value for their societies, the project provides a unique resource for research and teaching. From the beginning, it was envisaged as a public goods project, designed to be available to scholars and educators worldwide.       
Who do we interview?
Faculty members from Harvard Business School lead the project. They take an active role in identifying interview candidates in collaboration with the School's Global Research Centers and the MBA community. Faculty affiliated with other schools within Harvard and former HBS faculty have also played an important role. This includes: Emmanuel Akyeampong, Asli Colpan, Valeria Giacomin, Jerold S. Kayden, Andrea Lluch, Aldo Musacchio, Sudev J. Sheth, and Thales Teixeira. CEM also works closely with the David Rockefeller Center for Latin American Studies, the Harvard University Center for African Studies, and the Harvard University South Asia Institute to identify new interviewees. In Latin America, the project has benefited from the support of Universidad de Los Andes, Bogota, Colombia, and Universidad del Pacifico, Lima, Peru. Candidates are selected not only for their exceptional achievements, but also for the unique perspectives that they offer on the ways in which their industries have changed over time. Thus, interviewees are typically men and women who are able to reflect back over three or four decades in business.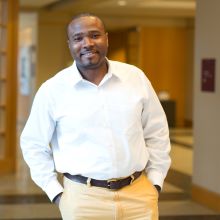 "As President of the Africa Business Club, I felt privileged to help make the connections which enabled African business leaders to be participants in the Creating Emerging Markets project."
EFOSA OJOMO, MBA 2015
Project Impact
More than 2,000 scholars and practitioners visit the CEM site each month from countries around the world. This map shows the countries where interview transcripts have been downloaded from the Creating Emerging Markets project website between January 2015 and December 2018. The size of the pins corresponds to the frequency of downloads in various locations.