Contemporary Art
Contemporary Art
Additional Outdoor Sculpture
Additional Outdoor Sculpture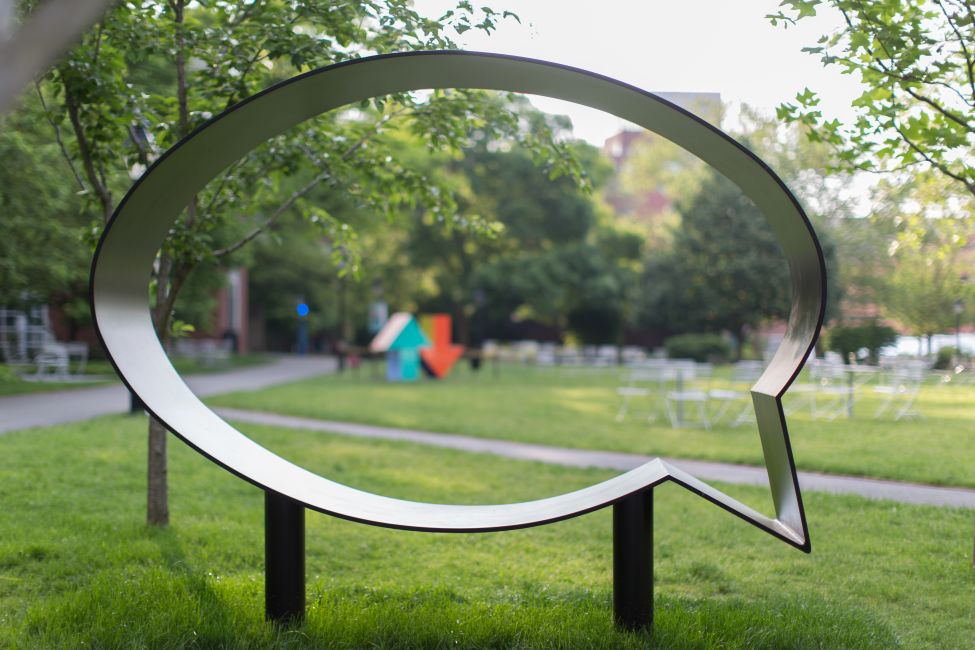 Hank Willis Thomas, Ernest and Ruth, 2015, various steel plate and pipe. Courtesy of the artist and Jack Shainman Gallery.
Born in New Jersey, Hank Willis Thomas is a photo-conceptual artist whose work investigates themes of identity, history, and popular culture. He received his BFA in Photography and Africana Studies from New York University and his MFA/MA in Photography and Visual Criticism from the California College of Arts. Ernest and Ruth is based on the iconic shape of a cartoon speech bubble and is meant to function as both a sculpture and a bench. Like much of Thomas's work, Ernest and Ruth explores the theme of shifting perspectives and invites audience participation and interaction. As Thomas has stated, "When viewers occupy the piece, they are encouraged to contemplate what it means to inhabit their own speech and beliefs."

Thomas's work is in numerous public collections, including the Museum of Modern Art, Solomon R. Guggenheim Museum, Whitney Museum of American Art, and Brooklyn Museum, New York; and the National Gallery of Art in Washington, DC. Thomas was recently appointed to the Public Design Commission for the City of New York. He is represented by Jack Shainman Gallery in New York City and the Goodman Gallery in South Africa.