The Year in Review
The Year in Review
Enhancing the innovation ecosystem. Extending the impact and reach of the School through a powerful digital learning platform. Training future leaders of technology ventures. Engaging alumni around the world through The Harvard Business School Campaign.
Across the "Five I" priorities—innovation, intellectual ambition, internationalization, inclusion, and integration—HBS continues to strengthen its core activities of teaching, research, and disseminating knowledge while investing in new initiatives that respond to society's greatest opportunities and most pressing challenges.
AUG 2016
Global Alumni Leadership Summit
Alumni of the School's comprehensive leadership programs—the Advanced Management Program, General Management Program, Program for Leadership Development, and Owner/ President Management Program— returned to the revitalized Executive Education campus for three days to reconnect with one another and program faculty, attend plenary sessions and case discussions, and share ideas and insights.
Participants
Faculty START
New teaching faculty begin their careers at HBS with an intensive three-day introduction to the School, including a behind-the-scenes tour featuring assets from the Library's Historical Collections, sessions on research and research support, and an immersion in teaching by the case method—including opportunities to prepare cases in learning groups and to practice a case opening and cold call.
Participants
Bloomberg Harvard City Leadership Initiative
Funded by a gift from Michael R. Bloomberg (MBA 1966), the Harvard Business School–Harvard Kennedy School collaboration aims to equip city leaders with the tools, skills, and support needed to tackle the complex leadership and management challenges faced in governing cities around the world. The effort encompasses executive training programs, new research and cases on innovative city government, and a coaching program through which successful mayors mentor newcomers.
Mayors and 400 top mayoral aides over four years
AUG 2016
Students Arrive
Nearly 10,000 applicants sought a place in the MBA Program; Doctoral Program applications also were high, with almost 850 applicants yielding 25 accepted offers.
AUG 2016
New Full Professors
AUG 2016
New Tenure-Track Faculty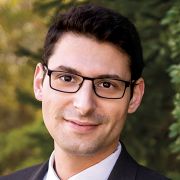 Jesse Schreger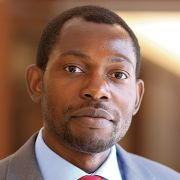 Anywhere Sikochi
Assistant Professor of Business Administration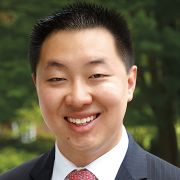 Andy Wu
Assistant Professor of Business Administration
Doctoral Programs
A distinctive focus of the HBS Doctoral Programs is training scholars to do reality-based management research. To that end, Chair David Scharfstein worked with DBA and PhD program chairs on a proposal to deepen the engagement of students with management practice and research across a variety of fields, to provide more exposure to MBA teaching, and to strengthen relationships between students and program faculty.
SEP 2016
Problems Unsolved & A Nation Divided
Michael Porter, Jan Rivkin, and Mihir Desai polled business leaders (including HBS alumni) and the general public on federal policy changes such as corporate tax reform and immigration reform that could improve competitiveness. Their report cites political dysfunction as the greatest barrier to strengthening U.S. competitiveness and lays out concrete steps that must be taken by the business community, state and local governments, and the federal government to improve the prospects of American workers and companies.
OCT 2016
At The Intersection Of Science & Art
Drawing on the vast collection of some 1.5 million items from the corporate archives donated by the Polaroid Corporation to Baker Library Historical Collections in 2006, the exhibit "Edwin H. Land & the Polaroid Corporation: The Formative Years" opened to the public and included original Polaroid sunglasses, a Model 95 camera and accessories, and "vectograph" aerial photos using a process that created 3D images for wartime reconnaissance.
Outstanding Young Business Leader
Social Enterprise Initiative Director Matt Segneri (MBA 2010) was honored on the Boston Business Journal's "40 Under 40" list and the Boston Chamber of Commerce's list of 10 outstanding young leaders.
Pagliuca Harvard Life Lab
The newest addition to the Harvard Innovation Lab (i-lab) ecosystem, the Life Lab—made possible by a gift from Judy (MBA 1983) and Steve (MBA 1982) Pagliuca—offers shared space for high-potential life sciences and biotech startups founded by Harvard faculty, alumni, students, and post- doctoral scholars. The 15,000-square-foot facility includes fully equipped and permitted laboratory and office space for early-stage companies and can house roughly 20 ventures.
Initial Ventures:
Akouos
Aldatu Biosciences
Beacon Genomics
Day Zero Diagnostics
GRO Biosciences
Riparian Pharmaceuticals
UrSure
Vaxess Technologies
XGenomes
HBX
Three courses were launched on the School's digital platform in 2016–2017, including Leading with Finance (Mihir Desai), Negotiation Mastery (Mike Wheeler), and Becoming a Better Manager (David Garvin). Together with Disruptive Strategy (Clay Christensen) and CORe (Bharat Anand, Jan Hammond, and V.G. Narayanan), HBX offerings cumulatively now have engaged over 14,000 participants; completion rates—upwards of 80 percent— continue to significantly outpace those for Massive Open Online Courses (MOOCs). In the spring, HBX Live held Managing Your Career Development, a seven-session virtual course designed to help young professionals answer questions of career design, progression, and transition.
Doctoral Student Research Awards
Five outstanding Doctoral students were recognized for excellence and innovation in their dissertation research.
WYSS AWARD FOR EXCELLENCE IN DOCTORAL RESEARCH
Andrew Brodsky (PhD, Organizational Behavior)
Curtis K. Chan (PhD, Organizational Behavior)
Ryann Manning (PhD, Organizational Behavior)
Ovul Sezer (PhD, Organizational Behavior)
MARTIN AWARD FOR EXCELLENCE IN BUSINESS ECONOMICS
William F. Diamond (PhD, Business Economics)
Faculty Immersions
Faculty chairs Tom Eisenmann and Mitch Weiss developed one-day excursions for their ladder faculty colleagues. Offered in New York City and Boston, these intensive programs brought faculty into the field to see companies and meet with leaders in business and government.
Enhancing Teaching, Learning & Research
Information technology provides the backbone for all the School's core activities. The I.T. group partnered with faculty to develop six simulations and 12 multimedia cases, developed a new mobile application to enhance alumni engagement, launched a new myHBS student portal, and implemented an HBS network foundation for cloud services; these and other projects, including capital projects, represent an annual investment of nearly $40 million.
JAN 2017
Immersive Field Courses
Seven second-year MBA courses—in Los Angeles, London, the United Kingdom, Africa, China, Taiwan, and Japan—enabled more than 250 students to put theory into practice. Faculty leaders drew on their research and industry connections to design courses that engaged teams of students in field visits, discussions with key contacts, and project work. In the Behavioral Insights course, for example, one student team worked with the U.K. government to create a digital solution that would help young, low-income individuals increase their emergency savings.
Preparing To Celebrate A Milestone
In advance of marking the 50th anniversary of the founding of the African American Student Union (AASU), the Leadership Initiative undertook an effort to build a comprehensive data set of the School's 1915–2015 African American alumni, using public sources to supplement information on employment history. MBA student projects during 2017–2018 will analyze this data in advance of an on-campus conference in April 2018.
A Living Model
Two hundred and sixty-two staff positions were filled during 2017–2018. In total, the HBS workforce comprises approximately 1,050 FTEs, of whom 63 percent are women and 18 percent are minority. Governance at HBS includes a unique partnership of faculty and staff, with most programs and activities led by a faculty Senior Associate Dean and staff Executive Director.
Focus on Africa
The newest research office opened in Johannesburg, co- located with Harvard's Center for African Studies. Headed by Pippa Tubman Armerding, it engages in case development and research with faculty members, develops and strengthens relationships with business and academic leaders across sub-Saharan Africa, and supports a range of other activities, including MBA admissions. Early in the new year Dean Nitin Nohria visited Lagos and Johannesburg, hosting an event for the HBS Club of South Africa. And, faculty co-chairs Ramon Casadesus-Masanell and Srikant Datar launched a new executive program, the Senior Executive Program—Africa, to help experienced executives design winning strategies and create competitive advantage.
Commitment To Sustainability
During the year, a green roof was added to McCollum Center and a new photovoltaic system was installed on the roof of Baker Library | Bloomberg Center. Since the 2006 benchmark year, and despite growth in the campus's building square footage, these and other measures have resulted in a 24 percent reduction in energy consumption and a 44 percent reduction in greenhouse gas emissions.
APR 2017
20th Annual New Venture Competition
STUDENT BUSINESS TRACK WINNERS
Dubilier Grand Prize:
Veho (shown) aims to replace large delivery trucks with a platform that enables anyone to deliver packages in their car.
Satchu-Burgstone Runner-Up Award:
CozyKin pairs families seeking infant child care with in-home Montessori care offered by technology- enabled nannies.
STUDENT SOCIAL ENTERPRISE TRACK WINNERS
Peter M. Sacerdote Grand Prize:
Flare seeks to reinvent personal security by offering technology-abled safety devices for women.
Sacerdote Runner-Up Award:
Juva Therapy connects mental health patients to providers best suited to their needs.
ALUMNI WINNERS
Grand Prize:
Apli a Mexican talent agency that delivers qualified on-demand workers in 24 hours.
Runner-Up:
Vention allows businesses to design and order custom manufacturing equipment online via 3D printing.
Student participants in the Competition's two-decade history.
Casewriting Workshop
Baker Foundation Professor Bill Sahlman, the author of more than 250 case studies, teaching notes, technical notes, and exercises, offered sessions for new faculty aimed at helping them become effective case writers and course developers. Topics included finding a case site and engaging with management, what makes a case an effective learning vehicle, and how casewriting and course development relate to an overall research agenda.
APR 2017
Topping Off
Construction on Klarman Hall reached the halfway point as the highest beam—signed by the construction workers and members of the community—was lifted into place. The building, made possible by a donation from Seth (MBA 1982) and Beth Klarman and designed by William Rawn Associates, will open in fall 2018 and will combine elements of a large-scale conference center, a performance space, and an intimate community forum.
"We look forward to Klarman serving as a hub for convening diverse groups for productive discussion on everything from the economy of the future to the potential of free enterprise to business ethics and corporate values."
— Seth & Beth Klarman
JUN 2017
MS/MBA
A new joint master's degree, conferring a Master of Science (SM) in Engineering Sciences from the Harvard John A. Paulson School of Engineering and Applied Sciences and an MBA from HBS, was announced, with the first students— approximately 30 each year—expected to matriculate in August 2018. The program will train future leaders of technology ventures and provide a strong foundation in general management, build design skills, and extend understanding of engineering. The curriculum will use both existing and new, jointly designed and taught courses.
Inclusion
Fellowships and financial aid are important means of attracting a diverse study body and ensuring that graduates go on to pursue careers where they feel their impact can be greatest. Beginning in June, HBS will waive the fee for active duty military applicants to the MBA Program. The Social Enterprise Initiative and MBA Program also announced an expansion of the Nonprofit/Public Sector Loan Assistance Repayment Program to include for-profit social enterprise positions, recognizing the growing number of graduates who pursue opportunities at these firms.
25 MAY 2017
Commencement
HBS awarded 930 MBA and six DBA degrees, and jointly awarded nine PhD degrees. During the Class Day ceremony the day before, Atlantic Media chair David Bradley (MBA 1977) encouraged students to adapt to both the ups and downs of life, and Andrew Cone (MBA 2017) urged his classmates to have the courage to speak their minds.
FACULTY AWARDS
Four faculty members were recognized by students for their excellence in teaching in the MBA Program: Joshua Margolis (Leadership and Organizational Behavior) and Julio Rotemberg (Business, Government and the International Economy) in the Required Curriculum, and Youngme Moon (Brand Strategy) and Tom Nicholas (The Coming of Managerial Capitalism) in the Elective Curriculum.
DEAN'S AWARD
Three students—Andrea Coravos (MBA 2017), Tami Kim (DBA 2017), and Ryann Manning (PhD 2017)—received the School's Dean's Award. The annual award celebrates the extraordinary achievements of graduates who have made a positive impact on the School, University, or broader community.
Alumni Achievement Awards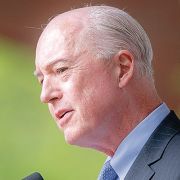 David G. Bradley (MBA 1977)
Chairman, Atlantic Media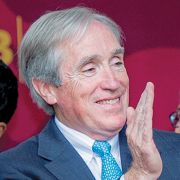 John J. Brennan (MBA 1980)
Chairman Emeritus, Vanguard Group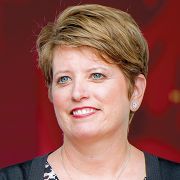 Angie Hicks (MBA 2000)
Cofounder & Chief Marketing Officer, Angie's List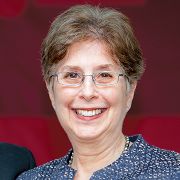 Ilene H. Lang (MBA 1973)
Retired President & CEO, Catalyst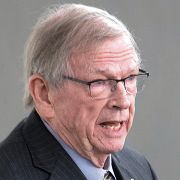 John H. McArthur (MBA 1959, DBA 1963)
Dean Emeritus, Harvard Business School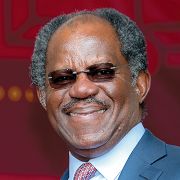 Adebayo O. Ogunlesi (JD/MBA 1979)
Chairman & Managing Partner, Global Infrastructure Partners
In Memoriam
The HBS community was saddened to lose three beloved colleagues during 2016–2017. Esteemed scholars all, their contributions to management and management education were far ranging and they exemplified the School's mission of making a difference in the world.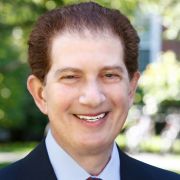 David A. Garvin
C. Roland Christensen Professor of Business Administration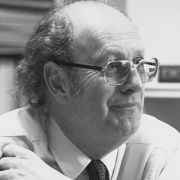 Howard Raiffa
Frank P. Ramsey Professor of Managerial Economics, Emeritus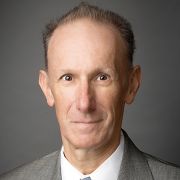 Julio J. Rotemberg
William Ziegler Professor of Business Administration